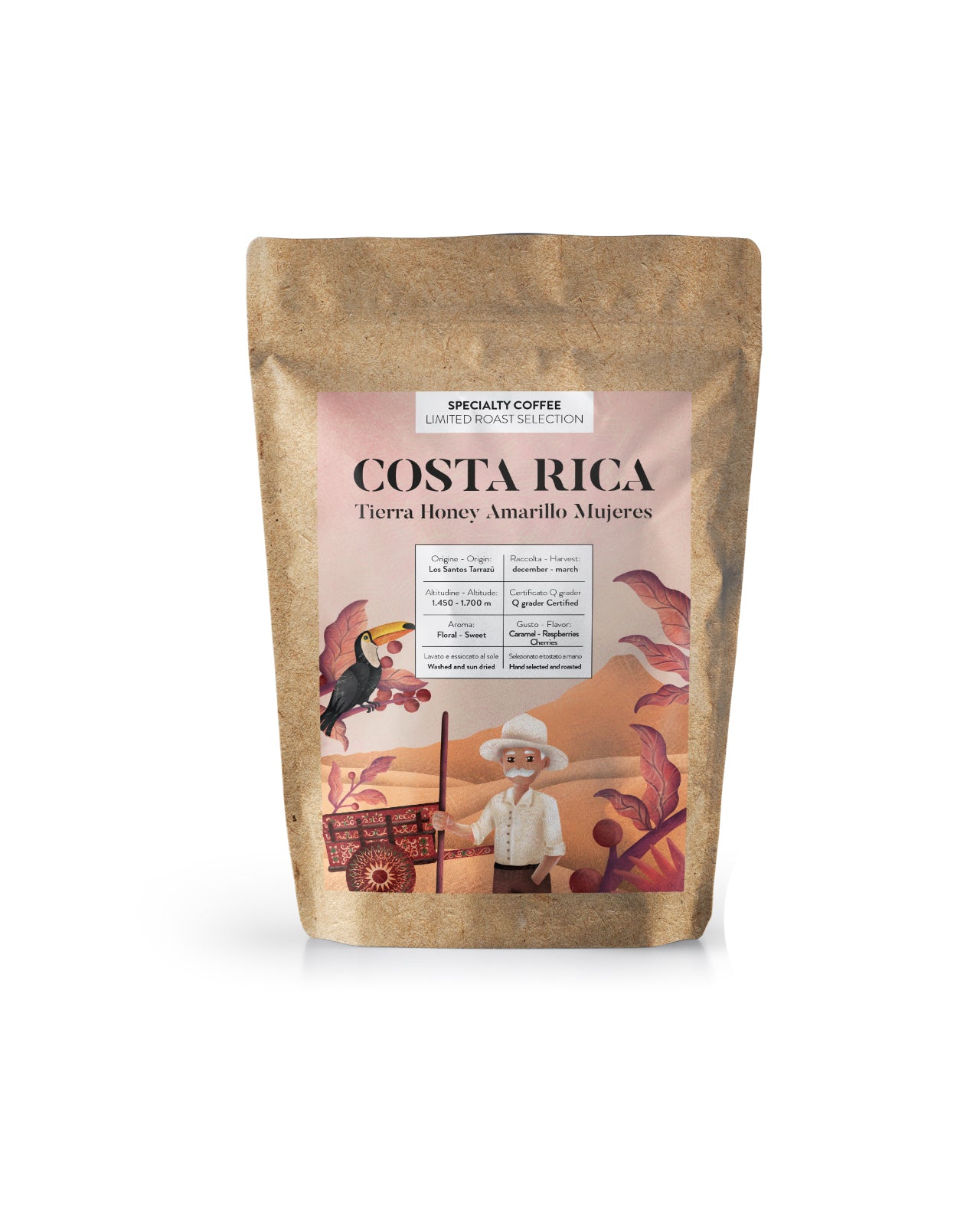 Costarica Yellow Honey Cafè Mujer
Translation missing: en.products.product.price.regular_price
€12,00
Translation missing: en.products.product.price.sale_price
€12,00
Translation missing: en.products.product.price.regular_price
Tax included.
Surprising and silky coffee, sweet with hints of caramel. Very fruity, appreciable notes of raspberries, blackberries and cherries. Medium and pleasant citric acidity. One of the best qualities with the Honey method.

Origin: Costa Rica, Los Santos Tarrazù
Typology: Arabica
Variety: Caturra, Catuai
Quality: Costa Rica Fancy SHB EP Tarrazù Honey Cafè Mujer
Harvest : December / March
Altitude: 1450 - 1700 meters
Processing: Honey process washed - Sun dried for about 8 days and hand selected
Cupping score SCA: 85.50
Aroma:

Body:

Cream:

Sweetness:

Intensity:

During the harvest period, every afternoon the women of Cafè Mujer - a coffee grown entirely by women - bring their cherries harvested during the day to the station of the CoopTarrazù. The cherries are immediately weighed and placed in tanks and the lighter cherries, the ones that float, are removed. Thus begins the long Honey process for these grains, which after immersion in the tanks, are directed to stripping and demucillaginating plants, which usually eliminate almost completely the mucilage layer, but in this case only for 50%. The drying phase completely in the sun is the crucial phase of the Honey method, because it must not be too fast, the aromas would not be absorbed by the beans, nor too slow otherwise they would create mold. In particular, for this Yellow Honey the drying process lasts about 8 to 10 days.